Django Unchained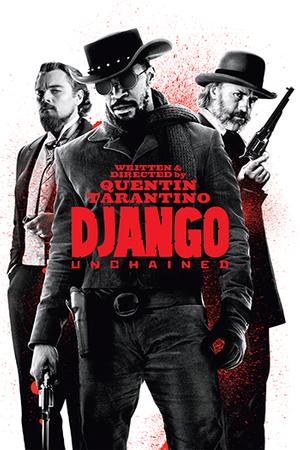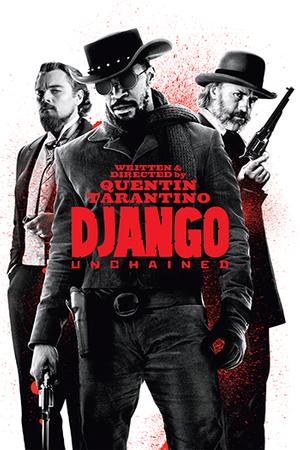 About
10 Year Movie Anniversary!

Set in the South two years before the Civil War, DJANGO UNCHAINED stars Jamie Foxx as Django, a slave whose brutal history with his former owners lands him face-to-face with German-born bounty hunter Dr. King Schultz (Christoph Waltz).

Schultz is on the trail of the murderous Brittle brothers, and only Django can lead him to his bounty. The unorthodox Schultz acquires Django with a promise to free him upon the capture of the Brittles - dead or alive. Success leads Schultz to free Django, though the two men choose not to go their separate ways. Instead, Schultz seeks out the South's most wanted criminals with Django by his side.

Honing vital hunting skills, Django remains focused on one goal: finding and rescuing Broomhilda (Kerry Washington), the wife he lost to the slave trade long ago. If Django and Schultz are to escape with Broomhilda, they must choose between independence and solidarity, between sacrifice and survival...
Director
Quentin Tarantino
Cast
Jamie Foxx, Don Johnson and Leonardo DiCaprio
Rating
---
---
Reviews
"A sharp shock of a film in an Awards season very full of movies so noble they become immobile. It's wildly unlikely to get much love from the Academy, and that's fine-bluntly, it's too good for them. With its bloody stew of history and hysteria, action taken from movies and atrocities taken from fact, Django isn't just a movie only America could make-it's also a movie only America needs to."


- Boxoffice Magazine

"An immensely satisfying taste of antebellum empowerment packaged as spaghetti-Western homage... A bloody hilarious (and hilariously bloody) Christmas counter-programmer."


- Variety

"DJANGO UNCHAINED also has the pure, almost meaningless excitement which I found sorely lacking in Tarantino's previous film, Inglourious Basterds, with its misfiring spaghetti-Nazi trope and boring plot. I can only say Django delivers, wholesale, that particular narcotic and delirious pleasure that Tarantino still knows how to confect in the cinema, something to do with the manipulation of surfaces. It's as unwholesome, deplorable and delicious as a forbidden cigarette."


- The Guardian
---
Awards
Academy Awards
BAFTA Awards
Academy of Science Fiction, Fantasy & Horror Films
Almeria Western Film Festival
AACTA Int'l Awards
AFI Awards
Almeria Western Film Festiva