Parallel Mothers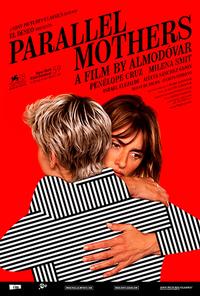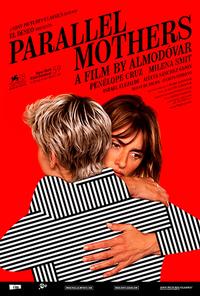 About
Two women, Janis and Ana, coincide in a hospital room where they are going to give birth. Both are single and became pregnant by accident. Janis, middle-aged, doesn't regret it and she is exultant. The other, Ana, an adolescent, is scared, repentant and traumatized. Janis tries to encourage her while they move like sleepwalkers along the hospital corridors. The few words they exchange in these hours will create a very close link between the two, which by chance develops and complicates, and changes their lives in a decisive way.
Cast
Penélope Cruz, Rossy de Palma, Aitana Sánchez-Gijón
Rating
---
---
Reviews
"In a world turned careful and considered (not by choice but by necessity) this extravagant, exuberant, magnificently messy movie, punch-drunk on story and delirious with drama, is the antidote to a cinematic lethargy you may not even have known you were feeling, until one of its legitimately insane plot pirouettes forcibly reminds you just how much dimension and chaos and vitality a flat beam of light projected onto a wall can contain."


- The Playlist

"It's a film of cascading twists and turns, of thickening complication, of high family drama. Hearing that, you might imagine that it's a movie of high comedy as well — a giddy and ironic Almodóvarian stew of maternal diva melodrama. But PARALLEL MOTHERS, while it keeps us hooked on what's happening with a showman's finesse, is not a comedy. It's not an over-the-top Pedro party.c"


- Variety

"While PARALLEL MOTHERS doesn't match the intricately interwoven layers of Almodóvar's top-tier work — All About My Mother, Talk to Her, Pain and Glory — and some of its key plot disclosures can be seen coming, that doesn't make the melodrama any less gripping or emotionally satisfying."


- The Hollywood Reporter
---
Awards
Venice Film Festival
Palm Springs Int'l Film Festival
---
Festivals
Venice Film Festival
Stockholm Int'l Film Festival
Camerimage Int'l Film Festival
Hamptons Int'l Film Festival
Chicago Int'l Film Festival
La Roche-sur-Yon Int'l Film Festival
Leiden Int'l Film Festival
Int'l Film Festival of India
Geneva Int'l Film Festival
Independent Film Festival Boston
Sydney Film Festival
New York Film Festival
and more...