Red Rocket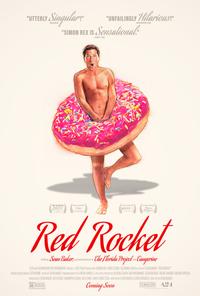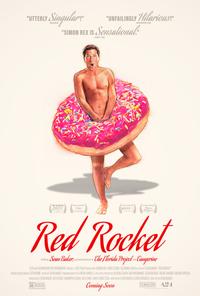 About
Finding himself down and out in Los Angeles, ex porn star Mikey Saber decides to crawl back to his hometown of Texas City, Texas, where his estranged wife and mother-in-law are living. Just as this dysfunctional family seems to be making things work, Mikey meets a young woman named Strawberry working the cash register at a local doughnut shop. He falls right back into his old habits.
Cast
Simon Rex, Bree Elrod, Brenda Deiss
Rating
---
---
Reviews
"RED ROCKET is so arresting because of how it keeps hope alive by rescuing devastation from the jaws of happiness."


- IndieWire

"The end result is a real pleasure, taking us along for a wild ride. Yes, it's slightly too long, and Baker and his team could probably trim a bit to make things even tighter. Yet there's so much charm at play, so much joy in watching even the moments of pain and embarrassment that it's difficult to criticize."


- Slashfilm

"Sean Baker is dedicated at the same time to the material realities of being poor in the United States and to the irreverent artificiality of snap zooms, smash cuts, and unexpected music cues."


- Slant Magazine
---
Awards
Deauville Film Festival
Middleburg Film Festival
---
Festivals
San Sebastián Int'l Film Festival
Busan Int'l Film Festival
Vancouver Int'l Film Festival
Deauville American Film Festival
Los Cabos Int'l Film Festival
Mill Valley Film Festival
Telluride Film Festival
Hamburg Film Festival
New York Film Festival
BFI London Film Festival
Zurich Film Festival
Middleburg Film Festival
Rome Film Fest
and more...