Broker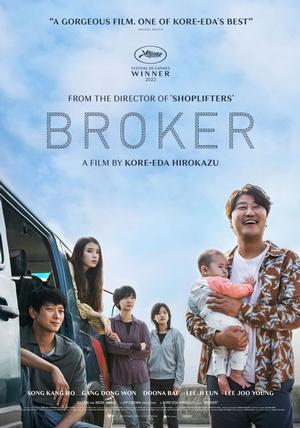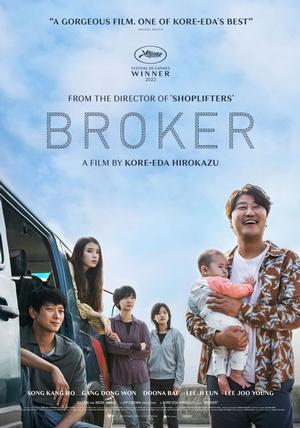 About
Five years after winning the Palme d'Or for Shoplifters, Academy award nominated filmmaker Hirokazu Kore-eda returns with BROKER, starring Cannes Best actor winner Song Kang Ho (Parasite).

The film follows two brokers who sell orphaned infants, circumventing the bureaucracy of legal adoption, to affluent couples who can't have children of their own. After an infant's mother surprises the duo by returning to ensure her child finds a good home, the three embark on a journey to find the right couple, building an unlikely family of their own.
Cast
Song Kang-ho, Dong-won Gang, Bae Doona
Rating
---
---
Reviews
"BROKER keeps on getting funnier and knottier as secret motives are revealed, sympathies shift, mysteries deepen and dangers multiply. It is, on one level, a farcical crime caper, but it is so elegantly plotted that it never seems contrived."


- BBC

"It's one of the master's most transparent and — when it comes to confrontations about what parents, and specifically women, can or should do for themselves and for the babies they are forever bound to — brave films of his career."


- IndieWire

"As often with Kore-eda's pictures, BROKER is about family, but it extends beyond that theme to talk about fundamental aspects of life — the need to belong, the hope of connecting with likeminded souls, and the desire to find a place called home."


- Screen Daily

"Absorbing and heartwarming, it's easy to forget that this tender drama is about human trafficking."


- The Playlist

"Kore-eda has an unfaltering lightness of touch, a way of injecting emotional veracity and spontaneity into every moment."


- The Hollywood Reporter

"The hackneyed thieves-with-a-heart-of-gold trope is reinvigorated by the sharpness of the writing and Song's Basset Hound charms. "


- Time Out

"Kore-eda is surprisingly generous toward his characters, nearly all of whom are breaking the law, but whose fundamental decency is brought out when dealing with others in need."


- Variety

"Broker is sentimental and sweet, often funny, and a lighter take on Kore-eda's ongoing project of exploring chosen families."


- Vox
---
Awards
Cannes Film Festival
Munich Film Festival
Norwegian Int'l Film Festival
Hawaii Int'l Film Festival
Chunsa Film Art Awards
Buil Film Awards
---
Festivals
Toronto Int'l Film Festival
New Horizons Int'l Film Festival
San Sebastián Int'l Film Festival
Helsinki Int'l Film Festival
Busan Int'l Film Festival
Hamptons Int'l Film Festival
Rio de Janeiro Int'l Film Festival
Heartland Int'l Film Festival
Newport Beach Int'l Film Festival
Philadelphia Int'l Film Festival
St. Louis Int'l Film Festival
Geneva Int'l Film Festival
Stockholm Int'l Film Festival
and more...