Linoleum
1h 41m
Comedy | Drama | Sci-Fi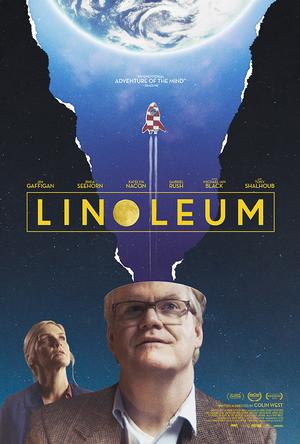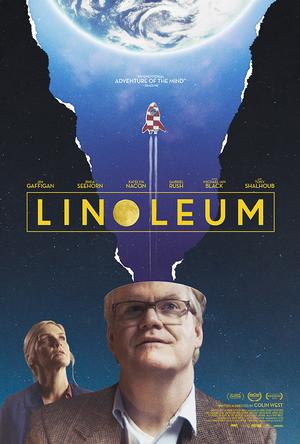 About
Cameron Edwin (Jim Gaffigan), the host of a failing children's science TV show called "Above & Beyond", has always had aspirations of being an astronaut. After a mysterious space-race era satellite coincidentally falls from space and lands in his backyard, his midlife crisis manifests in a plan to rebuild the machine into his dream rocket.

As his relationship with his wife (Rhea Seehorn) and daughter (Katelyn Nacon) start to strain, surreal events begin unfolding around him -- a doppelgänger moving into the house next door, a car falling from the sky, and an unusual teenage boy forging a friendship with him. He slowly starts to piece these events together to ultimately reveal that there's more to his life story than he once thought.
Cast
Jim Gaffigan, Rhea Seehorn, Katelyn Nacon
Rating
---
---
Reviews
"Colin West's LINOLEUM is the kind of movie that's all but impossible to review with any specificity, because so much of its achievement lies in its surprises – how it seems to be doing one thing while slyly doing another, without deception, and then revealing its ultimate intentions with grace and style."


- The Playlist

"West has made an extraordinary tale of the personal universes we all inhabit, the strange messiness of life, and the beauty of how everything all shakes out in the end."


- Collider

"Where the first two acts tell an offbeat and strange story, the final act comes out of the blue and ties everything up in a hope-filled and tear-inducing way."


- Film Threat

"Thoughtful performances and earnest (if especially subtle) writing keep the film compelling enough until its final minutes, which are even more startling in their heart-wrenching effectiveness than in their mind-bending twists."


- The Hollywood Reporter

"Linoleum is a heartfelt story about making every day seem like something fantastic."


- IGN

"Gaffigan leads the pack in what must be his best performance yet as an actor."


- We Live Entertainment

"Linoleum is filled with nostalgia — brought to life by the dreamlike, vivid cinematography by Ed Wu — and the overlapping of memories, the mind losing itself, and the fulfillment of a fantasy that feels incredibly out of reach."


- Screen Rant

"If you want to take a chance on something different, then this is a gem of a Donnie Darko style slice of science-fiction, which asks you to succumb to its strange ways and strap yourselves in for a uniquely triumphant human story."


- Flickering Myth
---
Awards
San Francisco Int'l Film Festival
Seattle Int'l Film Festival
Sun Valley Film Festival
Oak Cliff Film Festival
---
Festivals
Denver Int'l Film Festival
Paris Int'l Fantastic Film Festival
Palm Springs Inte'l Film Festival
Oldenburg Int'l Film Festival
San Francisco Int'l Film Festival
Cleveland Int'l Film Festival
Cinema Columbus Film Festival
Milwaukee Film Festival
Sun Valley Film Festival
RiverRun Film Festival
Nantucket Film Festival
Indie Street Film Festival
Woodstock Film Festival
BFI London Film Festival
and more...